You've probably seen more than a few self-defense keychains in the past few months. Typically made of pink or purple plastic and featuring cute little puff balls, self-defense keychains are one of TikTok's most enduring trends which is pretty surprising given that the app cycles through micro trends faster than you can blink. Self-defense keychains set themselves apart because of how necessary they actually are for people, particularly women, with whom they're popular.
As cute as a self-defense keychain is, though, not having a sturdy one that can be used effectively is about as useful as having no self-defense keychain. Or maybe it's worse since it gives you a false sense of security. That's why we've set out to look for pocket-sized self-defense tools that fit in the palm of your hand, can be hung from a handbag, and are discreet so your attacker never sees them coming.
Best Overall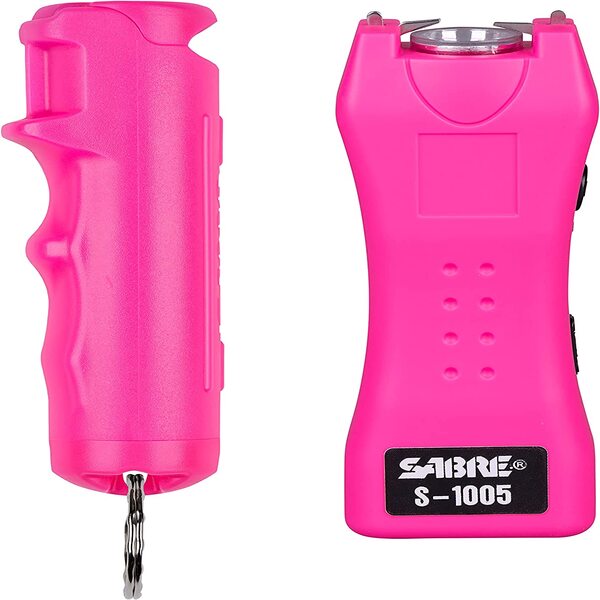 SABRE Pepper Spray and Stun Gun Multi-Range Protection Pack
CHECK LATEST PRICE Or scroll down for our runner-ups
Most Discreet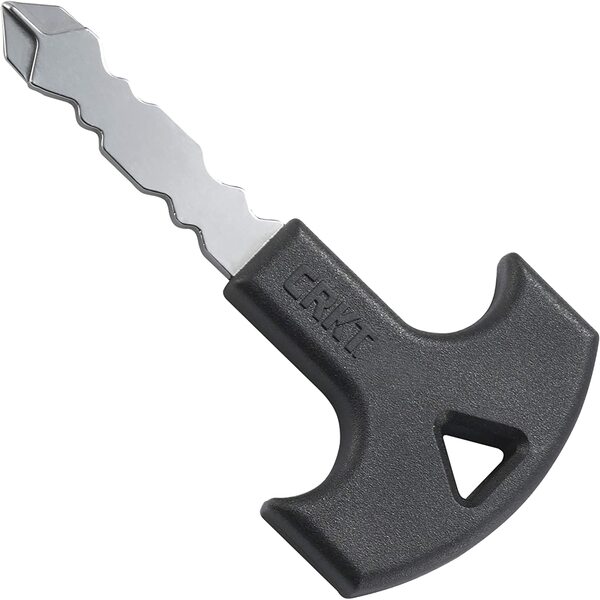 CRKT Williams Defense Key
CHECK LATEST PRICE Or scroll down for our runner-ups
Best for Multipurpose Use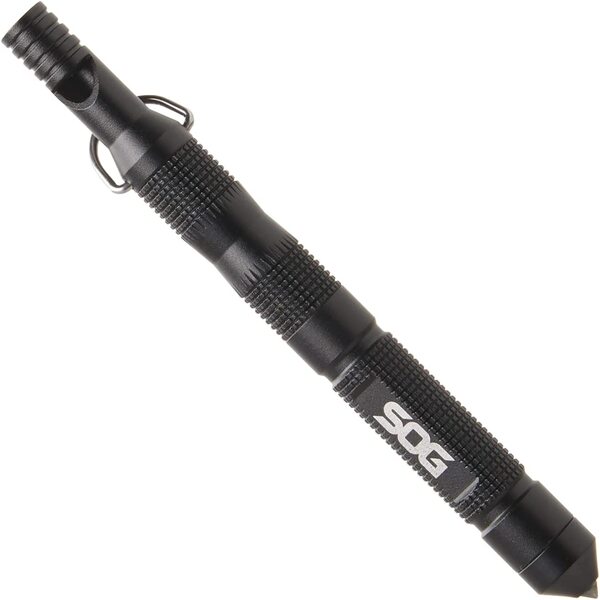 SOG Flint Survival & Defense Tool
CHECK LATEST PRICE Or scroll down for our runner-ups
1

SOG Flint Survival & Defense Tool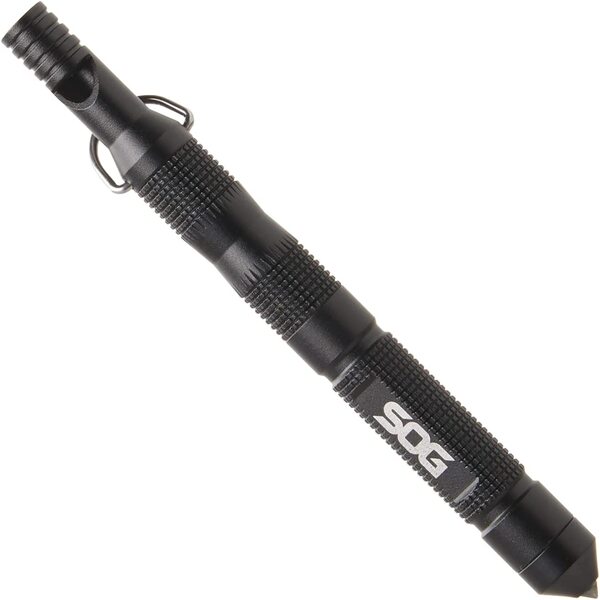 Best for Multipurpose Use
Okay, the SOG Flint Survival & Defense Tool isn't as cute as other self-defense keychains. But this is the self-defense keychain that doubles as a survival tool which is perfect for the ladies out there who love the great outdoors.
This hybrid survival and defense tool is a 6-in-1 pen-like device that can do everything from starting fires to breaking windows. The keychain ring of the SOG Flint Survival & Defense Tool can be used to attach your tool to your bag, phone, or even on your car keys.
At the very top is an emergency whistle to help you call for help. You can untwist this to reveal the steel striker underneath which is a ferrocerium rod for starting fires while you're out camping or hiking. It also comes with a tiny bit of steel wool hidden behind the carbide glass breaker. And it's a real window breaker, not a plastic stick.
PROS
Carbide tipped window breaker.
Complete fire starter set hidden inside the pen.
Integrated emergency whistle.
Resembles a regular pen or laser pointer making it incredibly discreet.
CONS
Lacks a long sharp point for self defense.
Doesn't come with a chain for attaching to your valuables.
2

CRKT Williams Defense Key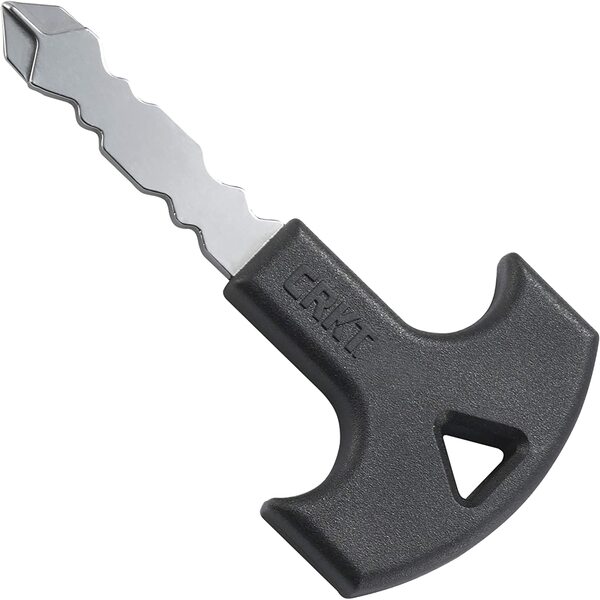 Most Discreet
You've seen self-defense videos and demonstrations where the instructor tells you to put your keys between your fingers and punch an attacker with them. If you haven't actually tried it before though, you might be surprised to find how slippery keys can actually be especially if they're house keys.
Enter the CRKT Williams Defense Key. This self-defense weapon doubles as a handy tool. The key's head has two grooves on the side for accommodating your fingers so you won't miss the mark in case you end up having to use it. At the tip of the "key" is a Phillips head screwdriver that you can use for quick fixes or for opening bottles if you have the right technique for it.
The key has a small hole at the top so you can string it in the same keychains as your real keys.
PROS
Low profile and looks like any regular key.
Doubles as a Phillips screwdriver.
Can be attached to any regular keychain.
Finger grooves to stabilize your grip.
CONS
Very small screwdriver.
Twice the size of a real key so it might be taken in by TSA.
3

MUNIO Kubaton Safety Keychain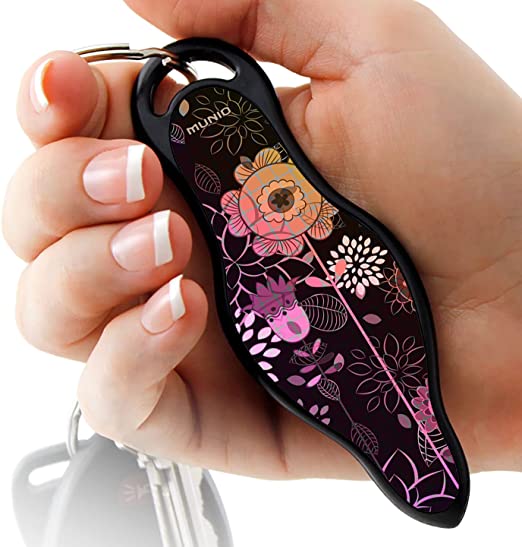 This MUNIO Kubaton Safety Keychain isn't going to let you break windows nor does it promise to like many self-defense keychain kubatons promise to (even if they can't). What you get with the MUNIO Kubaton Safety Keychain, though, is a reliable and simple self-defense tool that does exactly as promised.
The MUNIO Kubaton Safety Keychain is made of the same type of strong, lightweight ABS plastic used in tactical safety headgear so you know you're getting something that can put up with a lot of stress. Unlike popular keychain kubatons, this has a much more secure grip that you can comfortably wrap your hand around, giving you a better purchase for stabbing it at an attacker.
The keychain has three keyrings extending from the back and that's no mistake. The idea is to put your keys at the very end and use this additional length to create your own mini-whip for bashing an attacker with.
PROS
Holographic design made of wear-resistant material.
Made from durable ABS plastic typically used in tactical gear.
Can be used as a makeshift whip.
Child safe since the lack of a sharp point means they can't accidentally injure themselves versus other kubatons on the market.
CONS
Doesn't have a particularly long point.
No other additional features.
4

SABRE Pepper Spray Keychain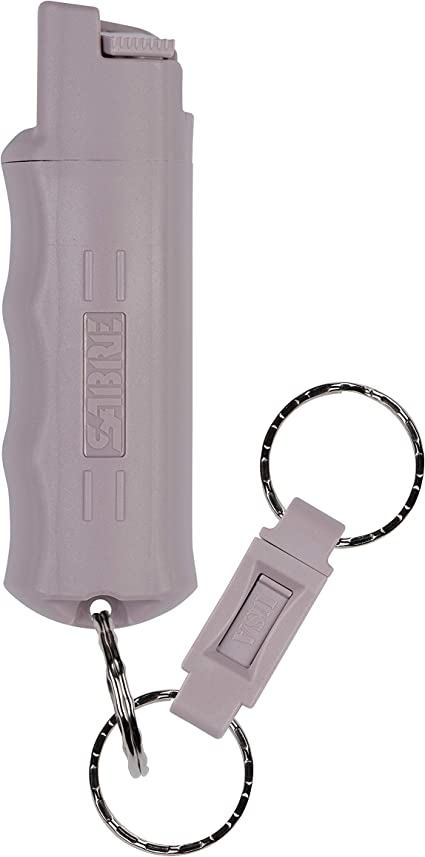 While many popular and cute self-defense keychains come with their own tiny cans of pepper spray, you're never actually sure of how strong they are and whether their range claims are true. The SABRE Pepper Spray Keychain delivers on both fronts.
The SABRE Pepper Spray Keychain uses Sabre's own private formula for maximum strength pepper spray that according to may users who've accidentally maced themselves stings for about 30 minutes. That's a lot of punch for such a tiny bottle of pepper spray.
Unlike other pepper sprays, the SABRE Pepper Spray Keychain also has a true 10 feet spraying range that doesn't just reach as far as 10 feet but stays effective for 10 feet.
The key ring has a quick release feature so you can easily detach it from your bag, but the keychain itself is long enough that you can just shift it into your palm if you keep your pepper spray attached to your keys.
PROS
Textured plastic surface.
Long keychain makes it easy to shift into the palm of your hand from your keys.
True 10 foot range.
Uses Sabre's maximum strength pepper spray.
CONS
Very limited amount of product inside each can.
Spray head drips a bit after use.
5

SABRE Pepper Spray and Stun Gun Multi-Range Protection Pack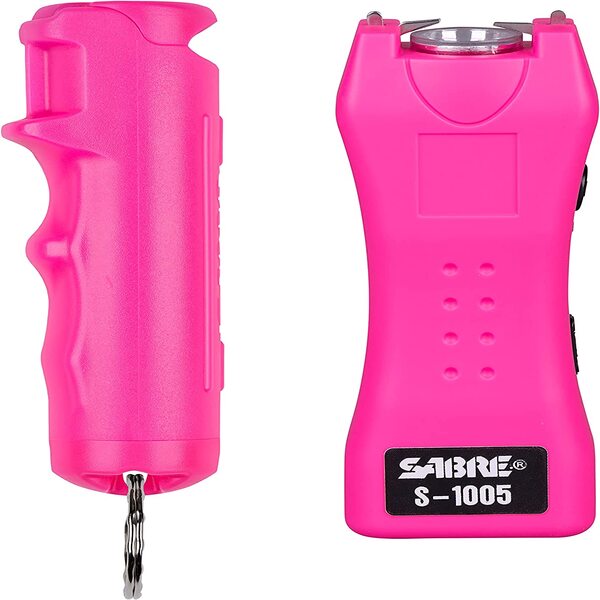 Best Overall
How about a 2-in-1 deal? The SABRE Pepper Spray and Stun Gun Multi-Range Protection Pack packages a pepper spray bottle with the same 10-foot range as the previous Sabre pepper spray with a taser.
The SABRE Pepper Spray and Stun Gun Multi-Range Protection Pack's pepper spray also uses Sabre's maximum strength pepper spray formula so you can be sure that your attacker stops in their tracks.
And if that's not enough of a deterrent, the set's included stun gun delivers a 1.60 micro coulombs charge that's sure to finish the job.
PROS
High capacity stun gun.
Maximum strength pepper spray.
10 foot spraying range.
Safety switch on stun gun prevents accidental discharge.
CONS
No keyring included for the pepper spray.
Taser cannot be attacked to a keyring or keychain.